Ignite your creativity with Weta Studio tours in Wellington
Calling the curious and the creative! In Wellington for the day? Looking for an authentic experience that'll ignite your imagination? You need look no further than Wellington's bustling filmmaking hub.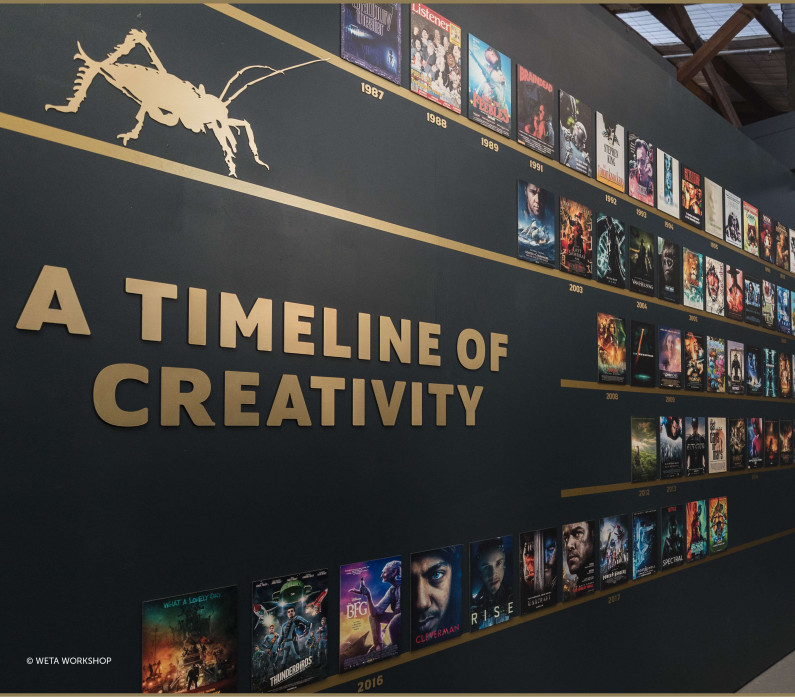 Nestled in the heart of said hub is Weta Studio Tours: home of Weta Workshop, the Academy Award-winning special effects facility best known for its ground-breaking work on The Lord of the Rings motion picture trilogy.
A day trip to the beautiful Miramar Peninsula should be on the top of any visitor's bucket list – and why not visit our little patch while you're here? We've put together five of our favourite reasons to do just that.
You'll see cool stuff. A lot of cool stuff.
Deep within the walls of its Miramar facility, Weta Workshop has helped craft some of the world's biggest blockbusters. Weta Studio Tours is your gateway to discovering how those incredible films are brought to life! From costumes to concept designs, sculptures to swords, and everything in between – exo-suits and real working vehicles, models and miniatures, weapons, armour, and creatures – our tour spaces are teeming with authentic artefacts. Expect to see a smorgasbord of creations from the likes of The Lord of the Rings and The Hobbit motion picture trilogies, Avatar, District 9, The Chronicles of Narnia, Ghost in the Shell, Saban's Power Rangers, Warcraft, King Kong, and many more. Your friendly guide will be on hand to share the stories of their creation.
Explore the miniature displays
Enjoy a studio tour
Impress your friends with the secrets of movie magic.
Did you know that Weta Workshop crafted 47,000 unique items for The Lord of the Rings trilogy? With your guide leading the way, step into the Weta Cave Workshop Tour to gain first-hand insights into the vehicles, weapons, costumes, creatures and models created for the big screen. Through windows into the workshop itself, check out the traditional and cutting-edge technology (in some cases, even hand-built!) that Weta Workshop has in its arsenal to bring props to life. Learn about the magic of 3D printing, chainmaille, prosthetics, sword-making, and sculpting as you wander through Manufacture Alley – an A to Z display of Weta Workshop's many departments. Converse with real working artists on our tour stage and hear their first-hand stories of how they create fantastical artefacts for movies, exhibitions, displays and more. On the Miniatures Stage Tour, learn how common household objects like old washing machines, computer parts, and even lemon squeezers can be used to create towering not-so-miniatures for the hit television show, Thunderbirds Are Go.
Posing with Azog
Kids at the miniatures stage tour
Get Insta-famous, Weta style.
No matter what generation you belong to, everyone loves a good selfie – which is why Weta Studio Tours has photo opportunities in spades. Sit in the cockpit with Virgil of Thunderbirds Are Go and pretend, just for a minute, that you're jetting off to an international rescue of epic proportions. Or pluck up the courage to snap a photo with our life-sized Azog statue on the Weta Cave Workshop Tour – one of Weta Workshop's terrifying creations for The Hobbit films. Of course, a visit to Weta Studio Tours is never complete without saying hello to Gollum and the three enormous troll sculptures out front. Designed and sculpted by the artists of Weta Workshop for The Hobbit, make sure you say hi to Bert, Tom and William. They don't bite. Usually.
Take your own piece of cool stuff home with you.
The Weta Cave retail shop is the departure point for all our tours, but it's really a destination. Once inside, you'll encounter a cavern of creativity in the literal sense of the word (seriously, parts of the shop really do look like a cave!) Enter through the Hobbit Hole doorway and encounter our mini museum, full of relics from Weta Workshop's earliest puppetry and practical effects for films like Meet the Feebles and The Frighteners. Browse our gorgeous high-end statues and sculptures crafted by the talented Weta Workshop crew.
From souvenirs, stationery and keepsakes to art prints, books, and highly limited-edition artefacts, make sure you leave room in your suitcase – the Weta Cave is stacked with items to tickle a wide range of fancies (as well as sporting the friendliest staff in Middle-earth).
It's a hop, skip & a jump from everything Wellington has to offer.
Whether you're keen on a jaunt along Wellington's beautiful coast or heading off to seek out your next famous filmmaking spot, Weta Studio Tours' convenient location on the Miramar Peninsula means your next adventure is never far away. It's a handy five-minute drive from Wellington Airport, making it a great first or last stop on your trip to the capital. If you're coming from the CBD, it's a modest 15-minute drive – and street parking is free! If public transport is more your style, simply board the #2 bus from any of the major stops along the bustling central city streets of Lambton Quay and Courtenay Place. The journey is only 20 minutes and the bus will drop you a leisurely two-minute walk from the Weta Cave's front door.
Your ticket to kiwi-made movie magic awaits.
Whether you're a film buff or just into cool stuff, a day at Weta Studio Tours will get your creative juices flowing! Tours run 364 days a year (closed Christmas Day). Bookings are recommended to avoid disappointment. Book now at www.wetaworkshop.com/tours
Get to Wellington on the Interislander
If you're heading to Wellington from the South Island, start your adventure on the Interislander Cook Strait Ferry from Picton. Our ferry leaves Picton up to five times a day and will give you a chance to soak up the sights of the Marlborough Sounds and Wellington Harbour on your journey.
Head to Wellington on the Northern Explorer
If you're travelling to Wellington from the upper North Island, jump aboard the Northern Explorer. You can start your journey from Auckland, Hamilton , Otorohanga, National Park or Palmerston North. Wherever you board, you can enjoy the spectacular scenery of the North Island as you sit back and relax.
More blogs you might like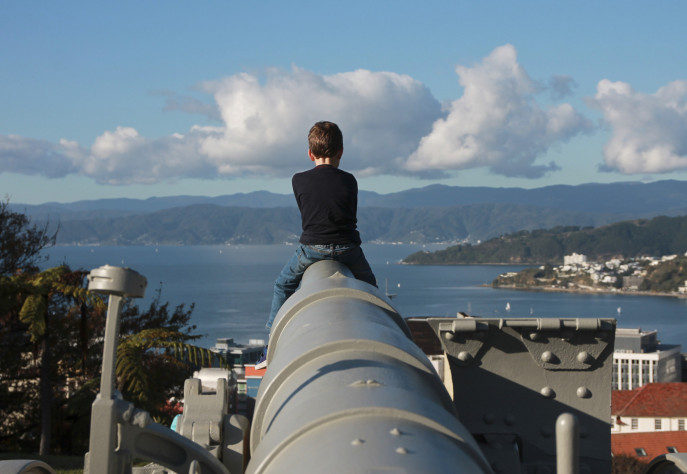 Must dos for kids in Wellington
We've rounded up some of the top things to do with kids in the capital to save you some time! From interactive museums to hitting the bike trails there is something for kids both big and small.
Find out more